B.H.M.S, M.D, C.G.O, C.C.H
Born in a migrated Gujarathi family from Ahmedabad, Dr. Sonali Sarnobat is an eminent Homeopathic Consultant and Nutritionist from India. She is also a renowned columnist writing for various newspapers and periodicals. She is a gold medalist in the Bachelor of Homeopathic Medicine and Surgery and MD course and a certified dietician.
She has two consulting centers in prime areas of Belgaum as well as in Sangli and Goa.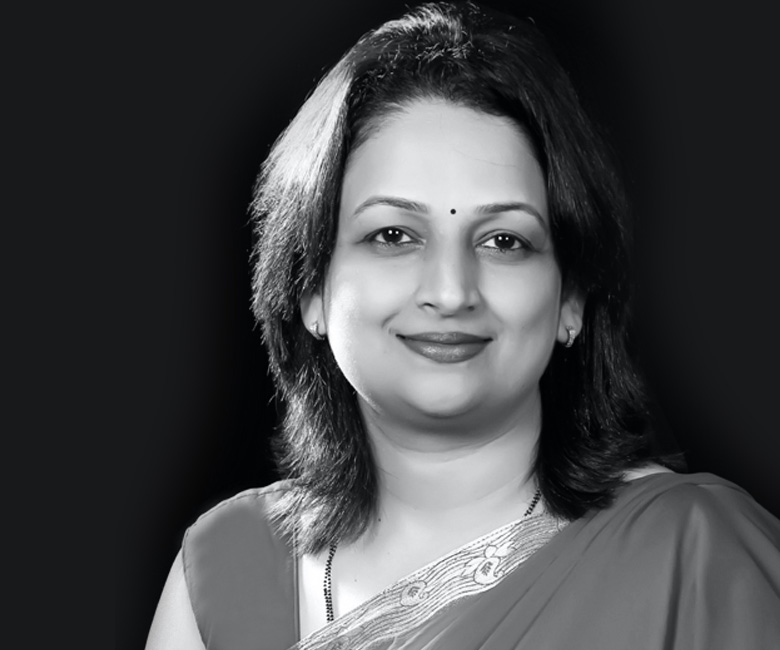 If in Belagavi you come across a personality which is multilingual, multi-faceted, talented and is popular with the masses , only one name echoes in your ears – that is of Dr Sonali Sarnobat.
Being very well educated with a flourishing practice and  a couple of drug manufacturing units keep her busy and professionally occupied .
But her real passion is social work, upliftment of the needy & poor and empowerment of women & youth. This passion propelled  her into starting an NGO – Niyathi Foundation.
Niyathi Foundation has had various ground breaking initiatives. *Mission No Suicide* to counsel the depressed youth away from negativity to positivity has won her many accolades. The * Home Minister* programme, another master-stroke , was initiated to enlighten the housewives about their health and legal rights.  This went a long way in empowering the women from various facets of the society. Niyathi Foundation is at the forefront in extending a helping hand to the financially needy students.
Dr Sonali had been leading from the front to help the flood affected population during the 2019 floods that ravaged the district. Her foundation is playing  a stellar role in helping the Covid affected population and has given substantial aid  to the underprivileged patients. 
Dr Sonali is also a profound writer. She has authored 3 books as of date. *Arogya Mantra*, a compilation of her Marathi newspaper columns has been translated in 2 languages ( Kannada & English ) and has gone into 3 editions. *Smart City being Smart*  Her second book which she penned was conceived after she attended the Smart City Conclave at NewDelhi in September 2017. Her third book *Diet & Me* which explains in detail about the scientific aspect of certain diseases needing to follow certain diets was received overwhelmingly. 
Dr Sonali after being appointed as the Co-convener of BJP Medical Cell in 2016 has been conducting various medical camps in and around Belagavi. During the Covid pandemic she on behalf of the party has been very aggressive in distributing sanitisers, masks, face shields, grocery kits, medicines in Grameen & Khanapur mandals.
She has been nominated on the board of Karnataka Animal Welfare Board(A Govt of Karnataka appointment). She has been very active in ensuring proper management of goshalas and guiding the pet shops in conducting fair business practices . She has also welcomed the much awaited anti cow slaughter bill.
It has been a pride of Belagavi that Dr.Sonali is also a member of Lalit Kala Academy, New Delhi, a Govt of India body which is India's national academy of fine arts that promotes and propagates Indian art in and outside India.
It would be no surprise to find Dr.Sonali to be omnipresent in the social, professional and political spectrum of Belagavi . A true social worker. A committed politician. A dedicated home maker. A doctor with a smile and a helping hand, always.
She has authored three books.
1)"Health Mantra" is a collection of her articles on various diseases and disorders, and their homoeopathic cure. It has been published in Marathi, Kannada and English, the last by Patridge Publications. Next books are
2) Smart City- Being Smart
3) Diet and Me
She is the chairperson of "Niyati Foundation", an organization dedicated to women and youth empowerment. One of the major programs of the organization is "Mission No Suicide" directed to motivate youth, so they turn away from self-destructive negative thoughts. The other important program is "Home Minister" which aims to bring out various skills among housewives.
She is a motivational speaker on "Health Awareness". She conducts lectures on "Menstruation Awareness among adolescent girls". She has visited numerous schools across Karnataka and Maharashtra for this purpose. 
She is VICE PRESIDENT BJP MAHILA MORCHA GRAMANTAR BELAGAVI DISTRICT
Party work
Organised 355 Mahila Mandals during MLA election 2018 and MP election 2019

Distribution of immunoboosters to Khanapur taluk( one lakh families) in Covid 19

Distribution of PPE kits and grocery kits to needy from BJP medical cell 

Distribution of Sanitary utilities and groceries as well as blankets to needy in 2019 floods 

Distributed grocery kits to 5000 families in covid-19 in 2020-21

Conducted Arogya Swayamsevak Abhiyan in Belagavi district as a Sanchalak of the Abhiyan.

Participation in MP election 2020-2021 Belagavi in Grameen canvassing very actively.

Participation in Corporations election 2020-2021 actively, campaigned for various candidates.

Seva Samarpan Abhiyan done actively. 

Sanghatana in Gramantar area.
Mahila Morcha activities done actively and responsibily.
She was and is  a member of various committees and social organizations.
Prominent among them are:
Smart City, Belagavi(2017)

Niyathi foundation founder president

KAWB animal welfare board Karnataka 

General council member lalitkala academy 

Anti Sexual harassment committee KLS society 

Anti sexual harassment Committee SGBT college 

Anti ragging committee JNMC (KLE) Belgaum 

NSS advisory member Rani Channama university Bgm

Inner Wheel Club member and e rotary club Vice President 2020

Invitee Member of National Women's Commission

Vidyadhar Shantai Vruddhashram member 

Member of Rashtra sevika samitee 

Committee Member of Female education society Belagavi 

Member of professional forum Belagavi 

Member Laghu Udhyog Bharathi 

Director and chief promoter Niyathi cooperative society 

Member anti ragging committee JNMC

President of Karnataka Homeopathic Medical Association Belagavi

Member of chamber of commerce 

Member of board of small scale manufacturers 

Vice President of E rotary club of Belgaum 3170
She has received various awards and accolades for her achievement and participation in social projects:
National Indian icon award for youth motivation 

Achievements Award from Rotary South

Bharat Prashasti  Award from Sirigannad

Achievement Award from PES Society

Various other felicitations from various Maths and Swamiji's 
She has participated as a dignitary in various functions and ceremonies:
Inaugurated Marathi Sahitya Sammelan in Yellur, 2018 and recently in 2020

Speaker in Mahila vimarsh 2019 Delhi(under guidance of Min. Smriti Irani)

Addressed Barrister Nath Pai Vyakhyanmala as Speaker

Event Chairman for MHM-Menstrual Health and Hygiene, Rotary Club 3170 Belgaum
She heads the following manufacturing units in medicine:
Hebasynth Medicare, Ayurvedic manufacturing unit

Homeosmart Manufacturing House, Homoeopathic manufacturing unit

www.thebachflower.com

manufacturing and e-commerce website

Swayambhu Essentials Pvt Ltd
She has carried out extensive research in Lactobacillus and Homoeopathic Treatment
She practices medicine in the following locations:
Kedar Clinic, Fulbag Galli

Dr. Sarnobat's Clinic and Research Centre, Goaves
Books by Dr. Sonali Sarnobat
Dr. Sonali is also actively working for the Belagavi smart city project.